Rate this pet (put your mouse over the stars to make your vote)
Some cool cute cats images:
Little Low-Light Monsters (D800 @ ISO 25,600)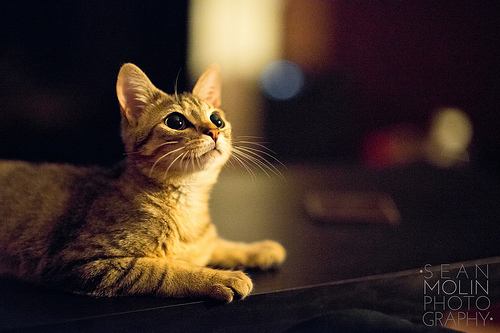 Image by Sean Molin Photography
Here we have two creatures that can see in the dark. Demetrius the cat, and the D800. Dark is an understatement. We're talking f/1.4, 85mm @ 1/30th sec, and ISO 25,600. What's more impressive than the low-light handling is the fact the AF locked on with absolutely no problems.
Versus the D700, when downsampled to match, I'd say the D800 is around 1-1/2 stops better. If I nail the exposure, I would definitely feel comfortable with a 25,600 image at 5×7… *maybe* 8×10 if the stars were aligned. I'd say I felt this way about the D700 at ~ISO 8000.
But, that's relative. I say that about the D700, but in practice I would *never* go above 6400 because of the loss of detail. Noise I can deal with, but the problem is that images start to look soft on the D700 when that high. I mean, check out the whiskers in this shot! I'd say it's easily TWO full stops more usable… if not 2-1/3rd.
SEE IT LARGE: www.flickr.com/photos/seanmolin/7028040701/sizes/o/in/pho…
This sample has been downsampled to match the D4's 16.4MP. Be patient as it is 14MB.
Follow me on Facebook, Google+, 500px, and on Instagram (sean_themighty)!
Aw Shucks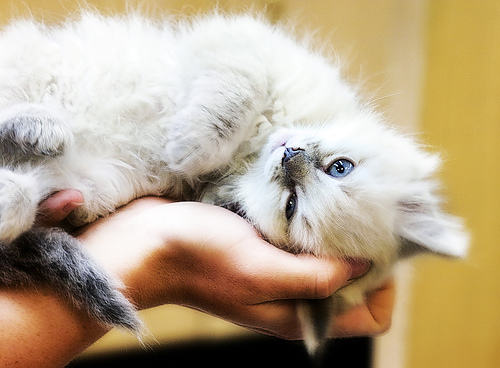 Image by Barb Henry
He knows he is cute and he is going to a new home. This is a brother to the other kitten. One of the girls at the office had a a mama cat deliver before getting her fixed, so she is bringing each kitten in to the office to be picked up by the new owners. This is one darling little furball.
Tags: Cats, cute, Nice, photos